the Louvre with the Bible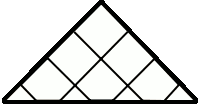 Assyria Nineveh

Arslan Tash Til Barsip

Iran Palace of Darius

Phoenicia Arabia Palmyra

Syrian coast

Ougarit Byblos




Seal Inscribed in Hebrew

AO 6216

Sully Levant

room D showcase 5 (21)

Assyrian figure holding

a stick and a flower.

On this seal, we can read: "Belonging to Shebna, servant of Uzziah" King of Judah (2 Chronicles 26:1). This undoubtedly refers to a high-ranking official whose name is an invocation to Yahweh.

The interest accorded to names themselves in the Hebrew Scriptures and by the Semitic people is worthy of note. Everything that exists has a name, and everything that has a name

A280

carries a meaning. A name was no mere label. It was characteristic of the real personality of the person to whom it belonged.

A281

We can read in Ephesians 3:14, 15: "Every family in heaven and on earth" receives its name from God.