the Louvre with the Bible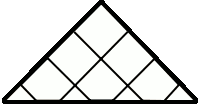 Assyria Nineveh

Arslan Tash Til Barsip

Iran Palace of Darius

Phoenicia Arabia Palmyra

Syrian coast

Ougarit Byblos




Model Shrine AO 21689


Sully Levant

room D showcase 5 (34)

Discovered in a private house,

this architectural terracotta model

represents a scaled-down domestic shrine.

The rectangular opening is framed by

two fluted pillars.

An added wreath adorns the very

pronounced pediment.

The recess could easily accommodate a figurine.

This model, in the form of a cella or small chapel, makes reference to sacred architecture. It would correspond to idolatry worship similar to that of the sacred pole.

The exhibit comes from Tell el-Farah, which is generally identified with Tirtsa, the capital of the Israel kingdom notably during the reigns of Nadab, Baasha and Omri. - 1 Kings 15,16.