the Louvre with the Bible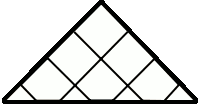 Roman art

Julio-Claudian Period

Late Antiquity

Gaul, Africa and Syria




| | | |
| --- | --- | --- |
| | | |

So-Called Domitius

Ahenobarbus Relief

LL 399

Denon room 22

This huge set of four plaques,

three of which are housed in the

Glyptothek in Munich, belonged to

Cardinal Fesh, Napoleon's uncle.

It is one of the first known examples of historical depiction that is so specific to Roman art.

This panel in the Louvre portrays a census scene. In it, we discover a fundamental element of the Roman Republic: the scribe, on the left, who is noting down declarations of assets made under oath by every citizen. This is followed by a purification ritual and a sacrifice in honour of Mars, the god of war.

Note the large shield each soldier carries.

Oval or rectangular in shape,

it protected the majority of the body.

It appears that Paul the Apostle

alludes to this defensive weapon

when he offers to:

"Take up the large shield of faith, with which you will be able to quench all the wicked one's burning missiles."

(Ephesians 6:16).

Christians are sometimes compared to the 'soldiers of Jesus Christ' (2 Timothy 2:3), engaged in a spiritual war "against the wicked spirit forces in the heavenly places (…). On this account take up the complete suit of armor from God". - Ephesians 6:13 (read 'panoply', the complete suit of amour of a hoplite).

Witness accounts drawn from secular history vouch for the fact that the first Christians were not politically partisan and did not take part in wars. The Primitive Church believed that one could not be both a Christian and a soldier. It was only when original Christianity was corrupted that Christians became soldiers.