the Louvre with the Bible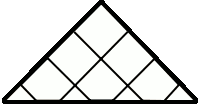 Assyria Nineveh

Arslan Tash Til Barsip

Iran Palace of Darius

Phoenicia Arabia Palmyra

Syrian coast

Ougarit Byblos




Boat Models

AO 29583

Room 17b

Phoenician mariners also founded Byblos, the city to which the Bible owes its name.

Joshua 13:5, NWT note

Bible, Boats and Byblos

These boats are a reminder of the time when Tyre was one of the greatest maritime powers of the ancient world. Its sailors and commercial fleet of 'Tarsis ships' were renowned for their distant voyages. (1 Kings 10:22) The history of Tyre is also a striking example of biblical predictions coming true. These Phoenician mariners also founded

Byblos

, the city to which the Bible owes its name.

A250

Bible, Biblia, Byblos ... and Papyrus

The term Bible is derived from the Greek biblia or 'small books'. It itself comes from biblos, which refers to the inner bark of the papyrus plant.

'The Phoenician port of Gebal, where papyrus was imported from Egypt, came to be called Byblos by the Greeks. The inhabitants of this city are Biblians'.